Yikes we all had to have surgery yesterday
Link: http://www.margsanimals.com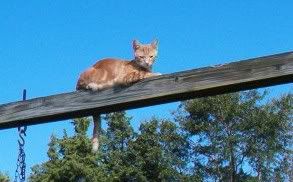 SPITTERS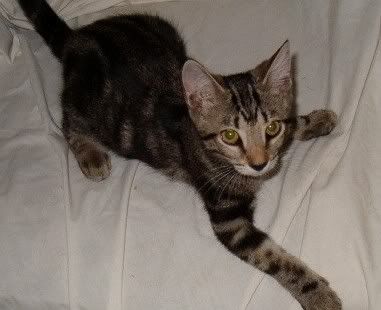 TABATHA
Well the four of us did not have a good day yesterday because we all had to have surgery so that we were spayed or neutered. When we were 4 weeks old we were discovered in the hood of a car of a neighbor that lives down the street from our staff and our staff said she would take the kittens if they would buy the food and those people agreed. They also paid for the surgeries which is really nice.
We are six months old and our names are Khaki, Spitters, Black, and Tabatha. I,Tabatha, am the little girl of this family so I had the worst surgery.
Anyway, our staff came into our room before we had breakfast which we thought was really rude, and of all things she put us in those darn carriers, two to a carrier. Then she very painfully took us to the car and I guess it was painful because we are so heavy. Now whose fault is that, that we are heavy? She just feeds us so well, that we have grown up to be healthy cats. And we couldn?t have much to eat the night before either because they had to put us to sleep for a little while so our stomachs have to be really empty so we wouldn?t throw up and by mistake get some food into our lungs. That would not be good.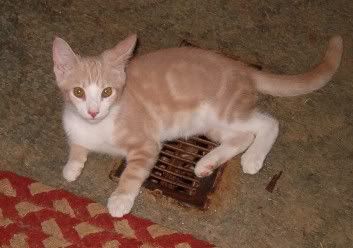 KHAKI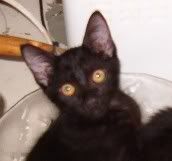 BLACK
Anyway off we go in the car and would you believe that she just left us at that office. Then we all had our surgeries and woke up feeling very groggy and I might mention, really hungry. So we had to get fully awake before the staff could pick us up and she did come get us, thank heavens. Those veterinarians told our staff not to feed us when we got home, can you believe that??? We were allowed to have a tiny little bit of food.
Today, we are eating but still are kind of puny especially Tabatha. She doesn?t want to eat.
The main reason Mom is writing this post is just to emphasize the importance of having your cats and dogs spayed and neutered. It is so sad to see kittens and puppies that don?t have a home or any food. A lot of people think that little kittens can find food for themselves and that is not true. The mom will bring them some food when she isn?t busy doing something else.
5 comments
We think you have the greatest mom ever to ensure you guys are being spayed and neutered and to take care of you!! The world needs more people like Marg!
P.S. Black does look a lot like our Saylor!
10/23/09 @ 12:30
Even though it was No Fun, I am glad you had your procedures. You do not need those parts, anyway. And I am sure you will get extra cuddling while you are recovering!
10/23/09 @ 14:09
You four are adorable! You are very lucky kittens to have been discovered by people who found a home for you and have helped to pay for your care. You new staff is absolutely wonderful for taking you in and making sure you got spayed and neutered. We hope you recover quickly from your surgeries.
10/24/09 @ 22:43
Oh you lovely little kitties, someday you'll know how lucky you are maybe? But right now you need to get better and then get big and healthy.
10/26/09 @ 10:39
Sry bout da sir juries, but is furry impawtant. Der is already more kitties than good homes. But it ain't fun goin hungry an bisitin da vet.
Mom read a story where a woman brot a box of kittens to da shelter an presented them like they should fank her for providin kittens. Like they was in short supply!
11/02/09 @ 15:10